Description
Super Text Mesh is a powerful, easy-to-use text renderer that replaces Unity's built-in Text Mesh and UI Text components!
History
Several months of development and several months prior of learning the unity engine, and several years of familiarity with text lead to the creation of Super Text Mesh.
Features
Animated text effects. Text can move in completely customizable wave and jitter patterns.
Text can be coloured with a gradient or texture pattern.
Built for in-game dialogue.
Completely customizable and easy to implement.
Works with Unity UI.
---
Videos
Trailer YouTube
---
Images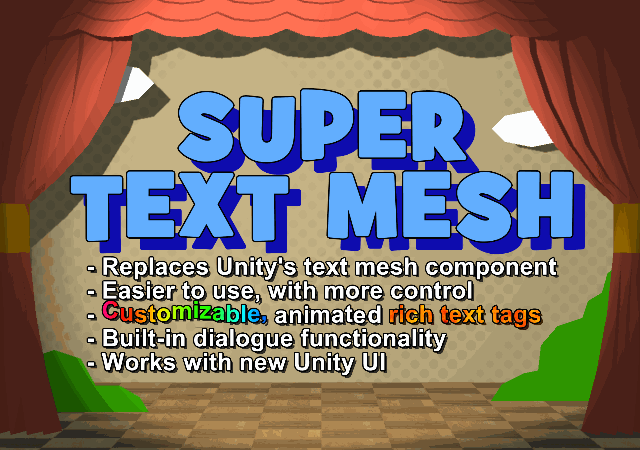 ---
Logo & Icon
There are currently no logos or icons available for Super Text Mesh. Check back later for more or contact us for specific requests!
---
---
Selected Articles
"...i can't recommend Super Text Mesh enough. it is a powerful tool and a staunch ally... i couldn't make the kind of stuff i wanna make without it."
- drak, @fancydrak
"My favorite feature is the inline text animations & transitions... It's super fun to make new waves & jitters, and in seconds you've got text that animates in and wiggles around!!!"
- Ben Espisito, torahhorse
---
Additional Links
---
About Kai Clavier
Boilerplate
Kai Clavier is a game developer. Sometimes they make Unity assets, compose music, and host game jams, too.
More information
More information on Kai Clavier, our logo & relevant media are available here.
---
---
presskit() by Rami Ismail (Vlambeer) - also thanks to these fine folks